Legislation filed in honor of fallen Shelby K-9 Police Officer Tim Brackeen and all public servants risking their lives in the line of duty
Raleigh, N.C. – Legislation filed by state House Speaker Tim Moore (R-Cleveland) to require jail time for assaulting law enforcement officers with a firearm became law in North Carolina on Thursday in honor of fallen Shelby K-9 Police Officer Tim Brackeen.
H.B. 224 Assault w/Firearm on LEO/Increase Punishment is also sponsored by Rep. Kelly Hastings (R–Cleveland, Gaston), former sheriff Rep. Carson Smith (R-Pender), and freshman Rep. Lisa Stone Barnes (R-Nash).  It takes effect December 1, 2019.
Speaker Moore proposed the heightened penalty to protect law enforcement at a bridge-naming ceremony honoring the second anniversary of Officer Brackeen's line-of-duty death last Fall.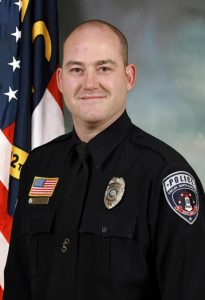 The new law strengthens the penalty for assaulting a law enforcement, probation, parole, or corrections officer with a firearm from a Class E to a Class D felony, requiring a minimum of 38 months in jail for criminals convicted of the offense in North Carolina.
"North Carolina needed stronger penalties to protect brave men and women like Officer Brackeen who risk their own lives to keep us safe," Speaker Moore said.  

"I knew Officer Brackeen to be a man of faith, a pillar of the Cleveland County community who was senselessly taken from us by a violent criminal.  His sacrifice for his friends and family, for the city of Shelby, will never be forgotten."
Assaults on North Carolina law enforcement officers with firearms have been prevalent the last several years.
A Henderson, N.C. police officer was shot yesterday investigating a previous drive-by shooting that killed a 16-year-old.  The officer's name has yet to be released.
Mooresville K-9 Officer Jordan Harris Sheldon was fatally shot in a routine traffic stop in May.
State Highway Patrol Trooper Kevin Conner was tragically shot and killed in Columbus County in October 2018.  Trooper Daniel Harrell was shot in Wilson County in January 2019 and survived.
Raleigh police officer Charles Ainsworth was shot in January 2019 and survived, as did Cleveland County Sheriff's Deputy Tim Sims, who was shot in August 2018.   
"Anyone who uses a firearm to assault public servants who put their lives on the line for the people of North Carolina deserves serious jail time," said bill co-sponsor Rep. Kelly Hastings.  "Strengthening these penalties was overdue."
Freshman Rep. Carson Smith (R-Pender), a 16-year sheriff of Pender County and co-sponsor of the bill, said the General Assembly stands with law enforcement.
"This General Assembly stands with law enforcement to protect those officers with the same vigilance they protect us," Rep. Smith said.   
Rep. Lisa Stone Barnes (R-Nash), a freshman House member, said she co-sponsored the legislation to protect members of law enforcement who are "our friends, family, and neighbors."
"When Trooper Harrell was shot on the Nash County line in January there was an outcry for justice from our community," said Barnes. 

"Law enforcement officers are our friends, family, and neighbors – ordinary North Carolinians making an extraordinary sacrifice for us.  Any criminal who threatens them with a firearm deserves stiff penalties and mandatory jail time."    
Background
Shelby City Police K-9 Officer Timothy James Brackeen, was shot on September 10, 2016, while he attempted to serve a warrant. He died two days later at Carolinas Medical Center in Charlotte, N.C., at just 38 years old, leaving behind a wife and young daughter.
Police say Brackeen was trying to serve a warrant to 23-year-old Irving Fenner at 12:21 a.m. on Saturday, September 10.  He reportedly found Fenner at 212 Gidney St., Shelby, near Bethel Baptist Church, police said. The two struggled outside the home, and Brackeen was shot in the chest, Ledford said.
Other officers arriving on the scene heard the sound of gunfire, and when they went to Brackeen's location, they found him outside the home and injured. Brackeen was wearing his bulletproof vest at the time of the shooting.
Brackeen was with the Shelby Police Department since July 2004 and was assigned as a K-9 officer for the department with his partner, Ciko (psycho).