Raleigh, N.C. – The state House of Representatives agreed to a class size compromise this week that provides further flexibility in how public schools set class sizes and spend hundreds of millions in increased education funding provided by Republicans in the North Carolina General Assembly since 2012.
"Our class size compromise responds to local education leaders and provides more transparency to taxpayers on how public schools spend hundreds of millions in increased funding provided by North Carolina House Republicans since 2012," said House Speaker Tim Moore.
House Republicans Increased Funding & Flexibility for North Carolina Schools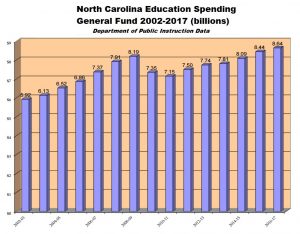 Background:
To achieve smaller class sizes in kindergarten, first, second and third grades – which research shows lead to improved student outcomes, H.B. 13 allows districts to comply with a district average of 20 students per class and an individual class maximum of 23 students for the 2017-18 school year.
It also requires public schools in 2018-19 to meet the class size reduction targets that were required prior to H.B. 13, with an individual class maximum of 3 above that figure.
H.B. 13 further adds accountability measures that will require local superintendents to report information on student/teacher ratios, and other statistics related to K-12 class size flexibility.